Saturday, July 14, 2012
Heatwaves in Malta are terrible. With Malta's weather being hot enough on average, a heatwave is, naturally, a nightmare. Consequently, the outfit I go out wearing in the morning diminishes in proportion with the amount of time past. Jewellery becomes unbearable by the end of the day, headbands share the same fate and my hair style becomes a rough up-do. That's what Malta's been facing the past few days - intolerable heat and the want of staying indoors for want of some form of shade from the blazing heat.
This outfit is in fact a product of Malta's weather. I wore it on a trip to the cinema, which I must add is a rare venture in itself. Since often enough I favour watching a movie at home...
Getting dressed!
The moment I saw these sunnies I knew I had to get them. They are so Dolce and Gabbana inspired, yet they're an individual piece and altogether original.
I don't do this stud Parfois necklace justice in the outfit posts you see here. You've only seen it once or twice before and I wear it bucket-loads more than that.
Crop top
| ASOS
Skirt
| DIY, Custom-made (Thanks Mum!)
Pointed Courts
| ASOS
Wicker Box Bag
| Vintage
Rings
| ASOS
Necklace
| Parfois
Cat-eye Sunnies
| ASOS
Nails
| Rimmel
Lips
| Revlon
VAMP Mascara
| Pupa Milano
fashosophy
fashosophy [ˈfæʃɑsfiː] n.
1 the musings of a girl;
2 a fashionable glance at the world.
3 a love for fashion

hello there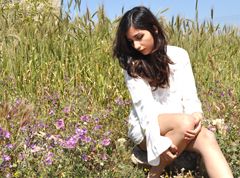 Maltese, in my twenties, exploring the possibilities of the fashion spectrum - on a budget! Fashion... superficial? Nah.
Sometimes exuding a
style-tip or two
, other times I simply jot
random fashion thoughts
, aka my personal fashosophy.
Quirky elegance is my thing.

Archives

© TIZIANA GAUCI 2011. Powered by
Blogger
.