Sunday, July 08, 2012
If you've been following my blog for a while you'd have noticed I hardly ever allow for anything to look too 'sweet'. I always have to
somehow,
in any way possible, add some edge. Otherwise I don't think the outfit is in any way complete. Today's look is an amalgamation of feminine pieces which I toughened up with black nail polish. The darker base in my hair also gave the look more of a fiery touch.
Here it is. :)
Checked Strapless Body | Pull & Bear
Skirt | Custom-made
Orange Pointed Courts | ASOS
Pearl Necklace | Accessorize
Nails | Essence
Lips | Catrice
fashosophy
fashosophy [ˈfæʃɑsfiː] n.
1 the musings of a girl;
2 a fashionable glance at the world.
3 a love for fashion

hello there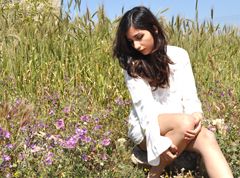 Maltese, in my twenties, exploring the possibilities of the fashion spectrum - on a budget! Fashion... superficial? Nah.
Sometimes exuding a
style-tip or two
, other times I simply jot
random fashion thoughts
, aka my personal fashosophy.
Quirky elegance is my thing.

Archives

© TIZIANA GAUCI 2011. Powered by
Blogger
.