Monday, May 14, 2012
The second edition of Malta Fashion Week reached its end last Saturday with the Malta Fashion Awards. It was a fun albeit busy week... You get to meet interesting people, including some talented designers and I also had a fun time with a few local bloggers!
As I went in, stole some backstage shots [well, actually, my boyfriend did - he was in charge of the camera for the night!] and later found my way to my seat.
Vikky Miggiani opened the show with the same red dress featured in the Fashion Week ad...then a preview of the designers feautured throughout the week followed - most of which you can read about in my previous Fashion Week related posts on -
the New Designers Show
, the
Maltese & Russian Designers Show
, and the
Fleur Kelinza
show). But here are a few extra bonus pics - of looks I might have not posted last time.
Creative Factory 7
Sef Farrugia
Sef Farrugia
Samantha Muscat
Muriel
Erin-Coal
Eli Sha
Fretka
Bags by Dali
Fleur Kelinza
Fleur Kelinza
Celeste
Ewa Nowacka
Gre Mar
University of the Creative Arts (UCA)
Joe Callus
There was still a number of designers who hadn't yet showcased their works throughout fashion week. The first of these for last Saturday's Fashion Awards was Patrik Selling, a Swedish hat and accessories designer. According to
Patrik Selling's website
-
Patrik has a big interest in both fashion & hat design, which is displayed in his design where you can see he has an understanding of modern and classic design. The passion is the craftsmanship – he push his choice of material do create a sculptural hat or headpieces.
The designs were mainly black or red, most of which were elegant headpieces, which also appeared in red. The looks, as well as the dresses, designed by another Swedish brand -
Åhléns,
were minimal albeit a cinched waist through the use of tied-up thin ornamented strap.
Alongside clothing collections, there were hair presentations in which hair stylists conjured a hair style within minutes. I enjoyed these. All of them had a different theme - here are a few fun snaps!
And a make-up presentation by Justin Brincat...the detail of the make-up was remarkable!
fashosophy
fashosophy [ˈfæʃɑsfiː] n.
1 the musings of a girl;
2 a fashionable glance at the world.
3 a love for fashion

hello there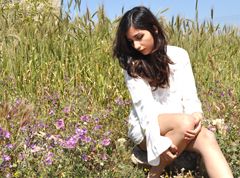 Maltese, in my twenties, exploring the possibilities of the fashion spectrum - on a budget! Fashion... superficial? Nah.
Sometimes exuding a
style-tip or two
, other times I simply jot
random fashion thoughts
, aka my personal fashosophy.
Quirky elegance is my thing.

Archives

© TIZIANA GAUCI 2011. Powered by
Blogger
.