Wednesday, April 04, 2012
This was before I had my hair cut. It's not short mind you. I couldn't bear to cut it much shorter. I'm still looking forward to long beach waves in two months' time. Anyhow, these shots were taken when it was still cold and windy outside but they still have a happy spring vibe to them. I bought this Mango sequined jacket a few summers ago and it's incredible how versatile I found it to be. When I bought these palazzo pants I knew I had to wear them with my sequined jacket.
MANGO sequined jacket
ASOS Palazzo Pants
MANGO white shirt
Vintage black clutch
Freedom by Topshop Ring
Revlon Stormy Pink Lipstick
Photos by Stefan Vella - find and support his work
here
.
fashosophy
fashosophy [ˈfæʃɑsfiː] n.
1 the musings of a girl;
2 a fashionable glance at the world.
3 a love for fashion

hello there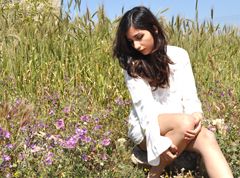 Maltese, in my twenties, exploring the possibilities of the fashion spectrum - on a budget! Fashion... superficial? Nah.
Sometimes exuding a
style-tip or two
, other times I simply jot
random fashion thoughts
, aka my personal fashosophy.
Quirky elegance is my thing.

Archives

© TIZIANA GAUCI 2011. Powered by
Blogger
.