Sunday, March 04, 2012
The waves were ardently hitting the shore and it really took a lot of stamina just to stand in that kind of bone-rattling wind in a cold February day. My hair is proof of that. Here's another look captured on camera by Stefan Vella (his page may be found
here
).
Composed of neutral pieces, it is a fairly simple look. Really and truly, it does not express my current attitude towards fashion. I'm currently over neutrals. Anyhow, since the pictured composition has gotten me through many a rough day of thinking about what to wear when I lack inspiration, it deserves a post.
ASOS petite wrap-dress
Black corset
River Island leopard Bag
ZARA
booties (also seen
here
)
Freedom by Topshop ring
fashosophy
fashosophy [ˈfæʃɑsfiː] n.
1 the musings of a girl;
2 a fashionable glance at the world.
3 a love for fashion

hello there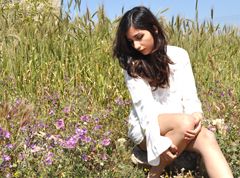 Location? Malta, Middle of the Mediterrenean, Europe
Budget? Cue Carrie: I like my money where I can see it; hanging in my closet.
Currently: a Communications student
Working in: Fashion Retail / Fashion Writing / on improving myself
This is my place to philosophise on Fashion and Style. In my own words -
fashosophising
.
Also: Quirky elegance is my thing.

get pinning

Archive

© TIZIANA GAUCI 2014. Powered by
Blogger
.

#tags
Popular Posts