Thursday, March 08, 2012
This post is about another outfit captured on camera by Stefan Vella! I like the idea of pairing black with neon. Being a monochrome, black and white girl through and through, I sometimes fall into the aforementioned abuse of black and white. Neon accessories are a fun way to spice up any black and white ensemble. They add pop of colour without being in-your-face. I mentioned this in a previous post
here
. I like to think that with it being a highly-contrasting application of colour, more attention is given to the accessories.
The polka dot blazer is TOPSHOP,
The bag is ZARA,
The denim cut-off shorts are TOPSHOP,
The top I got from ebay (at a really good price!)
The boots are from
TOPSHOP
too (which I told you about
here
)
fashosophy
fashosophy [ˈfæʃɑsfiː] n.
1 the musings of a girl;
2 a fashionable glance at the world.
3 a love for fashion

hello there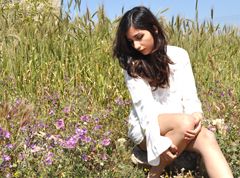 Maltese, in my twenties, exploring the possibilities of the fashion spectrum - on a budget! Fashion... superficial? Nah.
Sometimes exuding a
style-tip or two
, other times I simply jot
random fashion thoughts
, aka my personal fashosophy.
Quirky elegance is my thing.

Archives

© TIZIANA GAUCI 2011. Powered by
Blogger
.