Thursday, November 17, 2011
{GIVENCHY jumper, ALEXANDER WANG leather shirt, KAREN WALKER 'fight on' necklace, CHANEL vintage necklace, ALEXANDER MCQUEEN bracelet, CHANEL vintage charm bracelet, VALENTINO oversized clutch, FILLES A PAPA leather shorts, LANVIN booties, MICHEAL KORS watch, THIERRY LASRY sunnies, LANVIN floppy hat}
This is basically a look I would wear, if I had the money to buy a single item out of all these. Anyhow, if everyone had the means to buy it then it wouldn't be luxe now would it?
First off, I need to be clear on one thing - I did not select any of these items on the basis on their being fashionable, or because of the price tag they carry. I chose them because, well, I like them and because I think they work well with the look. Really and truly, I would not have personally chosen those Lanvin booties or the Thierry Lasry sunglasses out of liking but I believe they work wonders with the assemblage.
Secondly, you should know there is a little story behind three items in particular here. Namely, the Givenchy Panther jumper, the Valentino studded clutch and the Lanvin floppy hat.
The Story behind the Givenchy Panther Jumper - "Love at first sight!"
When the Givenchy panther appeared on the Riccardo Tisci's Givenchy Fall 2011 show, I fell in love. It was love at first sight! I could not of course afford it, and no high-street similitude sufficed. No t-shirt geared the same roar of the Givenchy panther. No satin skirt in sight with a panther on it, not even close. Nothing. I was devestated and till this day I still dream of setting my eyes on a roar remotely similar to that of the Givenchy panther. To put salt on the wound, there is not only a t-shirt. There is a skirt with the panther, there is a pair of skinnies with the panther, there are scarves with the panther. None I can afford. I can almost hear the sound of the violin with all the drama. Ok enough of that. To cut the long story short, in another world I would own at least half of Givenchy's fall 2011 collection (almost anything with the panther on it).
Story #2
The Story behind the Valentino clutch.
You see, I love studs. I love anything luxuriously studded, from pumps, to blazers, to t-shirts and to bags. This brings me to the bag. I particularly love the Valentino clutch. It is the perfect red. The idyllic combination of sassy and glam. Coupled with those studs it makes the perfect clutch bag. My favourite shade of red (a corally hue), my favourite studs (I prefer gold to silver and pyramid to the rest) and the perfect shape (it's also oversized - an added bonus).
Story #3
The Story behind the Lanvin floppy hat.
The hat being a Lanvin one is merely incidental. I do not have any particular attachment to it because it is a Lanvin, and it is not innovative in any particular way since we've long been seeing large sized floppy hats. However, currently I hold a minor obsession with floppy hats. Particularly black floppy hats. Last year I found one on sale at Stradivarius - it happened to be brown but since I had long been craving a floppy hat I bought it anyway. It served me well that hat, and it still does. I wore it
here
. Nevertheless I desperately need a black one. I've been needing it since before last year. But now Lanvin (and many other designers) have gone and made it popular. [Regardless, I still want it!]
fashosophy
fashosophy [ˈfæʃɑsfiː] n.
1 the musings of a girl;
2 a fashionable glance at the world.
3 a love for fashion

hello there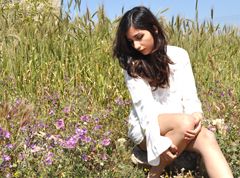 Maltese, in my twenties, exploring the possibilities of the fashion spectrum - on a budget! Fashion... superficial? Nah.
Sometimes exuding a
style-tip or two
, other times I simply jot
random fashion thoughts
, aka my personal fashosophy.
Quirky elegance is my thing.

Archives

© TIZIANA GAUCI 2011. Powered by
Blogger
.