Monday, February 10, 2014
When it comes down to it...I'm a planner. I enjoy planning things. If I could make a job out of planning things I would. I love lists, collecting info, timing things, forming a schedule, writing 'to do lists'. I love all that. One of the downsides to winter is that my brain is too cold to think. (Is that even a thing? Is that possible?). So when in the early hours of the morning I need to formulate a quick and easy outfit to wear to beat the cold I tend to opt towards my thrifted denim jacket, my 'heirloom' scarf, and black combats. That's how easy life should be. What goes beneath is arbitrary and yes, spontaneous.
I wore an H&M nightie which I insist on wearing as a slip dress. But that makes it all the more authentic. But even if what was underneath was the least bit spontaneous, what I wore this outfit to was
all about
planning. To plan a trip to Florence - YAY! I can't wait. We went to Costa Coffee at Malta International Airport. Travel planning at the Airport. Quite appropriate I should think. It's great to work there with free WIFI and coffee served whenever and however.
As for the boots I got them from ASOS two years ago before the whole cut-out boot trend took over. I wear them less now. (In fact, I also wore them
here
.) But I found they give the right amount of edge to a lace-trimmed slip dress.
Since I had to come up with a title for the sake of archiving this post it easily came around to being my 'winter uniform'.
Click on 'Read On' for more pictures and info. ;)
fashosophy
fashosophy [ˈfæʃɑsfiː] n.
1 the musings of a girl;
2 a fashionable glance at the world.
3 a love for fashion

hello there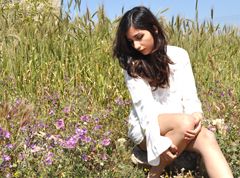 Location? Malta, Middle of the Mediterrenean, Europe
Budget? Cue Carrie: I like my money where I can see it; hanging in my closet.
Currently: a Communications student
Working in: Fashion Retail / Fashion Writing / on improving myself
This is my place to philosophise on Fashion and Style. In my own words -
fashosophising
.
Also: Quirky elegance is my thing.

get pinning

Archive

© TIZIANA GAUCI 2011. Powered by
Blogger
.